mesh::Vector3 Class Reference
#include <vector3.h>
Collaboration diagram for mesh::Vector3: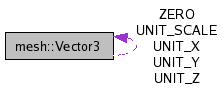 [legend]
List of all members.
---
Detailed Description
Standard 3-dimensional vector.
Remarks:

A direction in 3D space represented as distances along the 3 orthoganal axes (x, y, z). Note that positions, directions and scaling factors can be represented by a vector, depending on how you interpret the values.
Definition at line 35 of file vector3.h.
---
Constructor & Destructor Documentation
---
Member Function Documentation
---
Friends And Related Function Documentation
---
Member Data Documentation
---
The documentation for this class was generated from the following files:
---
Generated on Fri Oct 26 13:35:18 2007 for FEMAXX (Finite Element Maxwell Eigensolver) by
1.4.7